We offer lawn care and landscaping services to commercial and residential properties in West Des Moines, IA.
The services we offer include hardscape installations, landscaping, and lawn care.
West Des Moines is a rapidly growing city in Iowa with a population that now stands at more than 69,700. This city was known as Valley Junction during its early years because of various rail lines that formed a junction in the area. Today, one of the top places to go in West Des Moines is the Historic Valley Junction district, where people can explore a wide range of boutiques, art galleries, restaurants, and antique stores.
Here at Brilliant Borders Landscaping, we help maintain the beauty and charm of West Des Moines, IA, by offering our comprehensive lawn care and landscaping services to commercial and residential properties here. From hardscape installations and landscaping to lawn care services, we're the team to call.
---
We Create Beautiful Outdoor Living Spaces With Our Hardscape Installation Services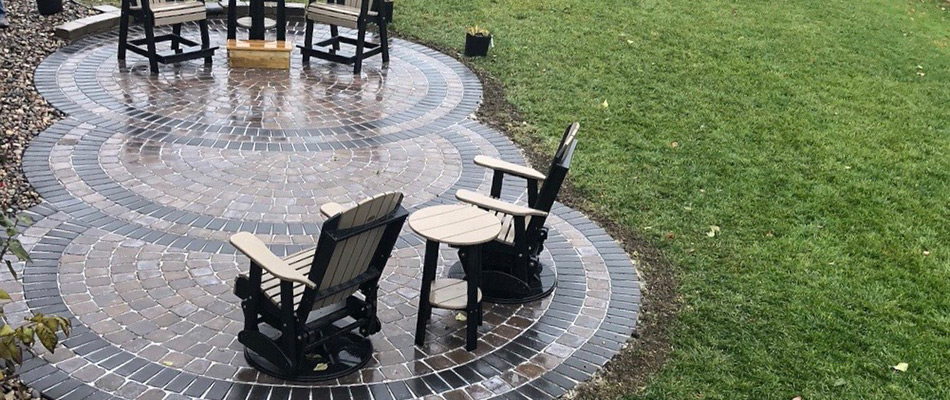 If you want to expand your outdoor living space in West Des Moines, IA, we can help with that through our hardscape installation services! A great foundation for it is a patio, and we can build one using top-quality materials to ensure it is long-lasting. We can also install outdoor steps, a driveway, and walkways to improve function on your property.
We build retaining walls to level sloped ground and give you more usable space on your property. On the other hand, our seating walls provide more seating options for your outdoor living space and are equally decorative!
We offer fire pit and outdoor fireplace installation services, too. These fire features will provide warmth during chilly nights here in West Des Moines. Our outdoor kitchens can make your outdoor living space more enjoyable, and you can add various features to improve its functionality, like fridges, pizza ovens, grills, and more.
We also specialize in installing decorative edging. This feature will create a stylish distinction between your lawn and landscape beds, making your property look more manicured and attractive.
---
Enjoy a beautiful and vibrant landscape with our landscaping services.
Our landscaping services are designed to make your landscape in West Des Moines, IA, look its best all year long. We offer a landscape design service that involves creating a 2D design rendering so you can see how your new landscape will look before installation begins. We can install new landscape beds or renovate your existing ones, then deck them with beautiful and vibrant plants with our plantings and softscapes service. We can even add landscape lighting to illuminate your outdoor space for nighttime use!
Your landscape's appearance can make or break your property's curb appeal, which is why it's crucial to maintain its manicured aesthetic. At Brilliant Borders Landscaping, we offer maintenance services, such as trimming and pruning, yard cleanups, mulch and rock installation, and landscape bed weed control to keep your landscape looking fantastic. If you're having issues with water pooling in your yard, we offer a drainage and grading service to rectify these problems.
We offer a holiday lighting service to help perk up your property during the holiday season.
---
Our lawn care services include fertilization, weed control, lime treatments, and more.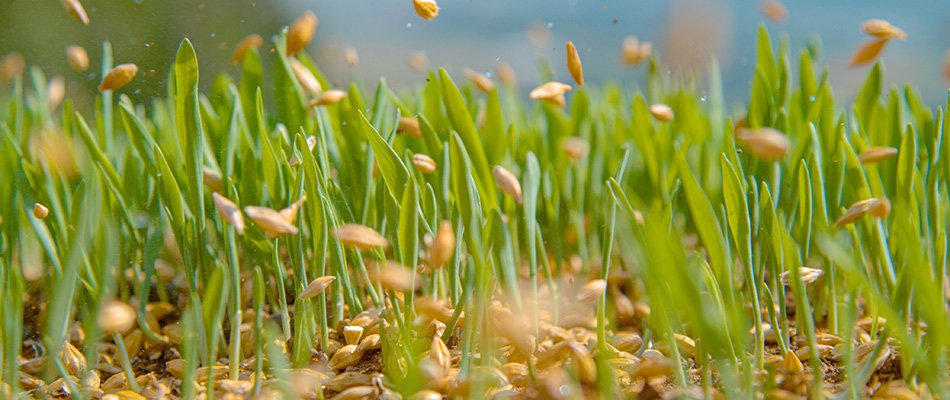 When you work with our lawn care experts, you can rest assured knowing the health of your lawn in West Des Moines, IA, comes second to none. We offer two lawn fertilization and weed control programs that run from April to October and are specially curated to meet the nourishment needs of your grass while protecting it from pesky weeds. It's best to schedule our soil testing service with either of our programs so we can determine your turf's overall health and tailor them accordingly.
In the fall, you'll want to schedule our core aeration and overseeding services. We'll aerate your turf to loosen compacted soil and help the roots of your grass access vital nutrients. With the soil freshly churned, we can spread a top-notch blend of grass seeds on your existing lawn to encourage new growth and increase its density. We also provide lime treatments to ensure your soil's pH level is balanced. We can handle various lawn insects with our lawn insect control treatments, then protect your turf from fungal diseases with our lawn disease control treatments.
Our team can bolster the health of your plants with our tree and shrub fertilization and disease and insect control services.
---
Our Commercial Lawn & Landscaping Services for Business Owners in West Des Moines, IA
If you own a commercial property in West Des Moines, IA, we can handle all your lawn and landscaping needs! We will ensure your business looks its best with our commercial lawn care and maintenance services.
Our team also provides commercial landscaping and hardscaping services to help elevate the style and function of your outdoor space. In the winter, we provide a snow removal service to keep your business safe and accessible.
---
Call us today to sign up for our lawn care and landscaping services.
Here at Brilliant Borders Landscaping, we offer comprehensive lawn care and landscaping services to commercial and residential properties in West Des Moines, IA. Our team has 19 years of experience beautifying properties in our area, and it's time you get the same high-quality service for yours. Call us today at (515) 664-6205 to sign up for any of our services.