We provide lawn care and landscaping services for homes and businesses in Urbandale, IA.
We can handle anything from installing hardscapes to caring for and maintaining lawns and landscapes.
Spanning through both Polk and Dallas counties, the suburban city of Urbandale, IA, is home to over 45,900 people. Urbandale is rich in history and charming landscapes, and the Living History Farms is one of the various places which speak to that. This 500-acre outdoor museum features activities, demonstrations, on-site interpreters, and fun projects that teach Iowa's agricultural heritage on a more interactive level.
Here at Brilliant Borders Landscaping, we help homeowners and business owners in Urbandale, IA, make their properties stand out with our lawn care and landscaping services. Our team is skilled and trained to install hardscapes, care for your lawn, and maintain your landscape.
---
We can install patios, driveways, fire pits, outdoor kitchens, and other hardscape features.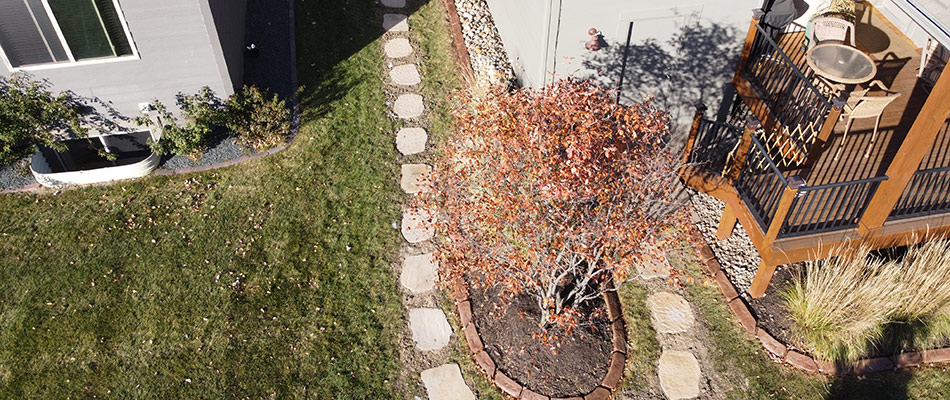 Our team can design and install a variety of hardscapes that will transform your outdoor living space in Urbandale, IA. Whether it's a custom patio, a sturdy retaining wall, a stunning fire feature, or a functional outdoor kitchen, all our hardscapes are made using top-quality materials that are equally beautiful and durable. Our hardscaping services include the installation of these features:
---
Our Lawn Care Services Include Lawn Fertilization, Weed Control, Aeration & More
A healthy and vibrant lawn can do wonders for your property's visual appeal, and we're here to ensure your grass receives everything it needs to thrive! From supplying it with much-needed nutrients through fertilization and keeping it weed-free to improving its nutrient uptake and making it more thick and lush - we can do it all for your lawn in Urbandale, IA. Check out the lawn care services we offer:
We provide tree and shrub fertilization, disease control, and insect control treatments to keep your plants in their best shape year-round.
---
We'll revitalize your property's aesthetics with our landscaping services.
Here at Brilliant Borders Landscaping, we offer a landscape design service that puts your vision and goals first. We'll work with you to understand your aesthetic style and needs so we can design the landscape you've always wanted. Our team can also revitalize your property's aesthetics by installing fresh landscape beds and keeping your plants well-maintained, plus much more. We specialize in these landscaping services:
Give your property in Urbandale, IA, the perfect holiday look with our holiday lighting service.
---
Keep Your Commercial Property Pristine With Our Commercial Lawn & Landscaping Services
As a business owner, making time in your already busy schedule to perform lawn care and landscaping for your commercial property can prove challenging. Fortunately, that's where we come in! We want you to have as much time as you can to work on your business, so we offer a comprehensive list of commercial lawn and landscaping services to keep your commercial property in Urbandale, IA, looking pristine.
---
Call us today to schedule our lawn care and landscaping services.
If you want to achieve the most beautiful lawn and landscape on your block, look no further than our team at Brilliant Borders Landscaping. We provide expert lawn care and landscaping services for commercial and residential properties in Urbandale, IA. Since 2004, we have consistently delivered exceptional results and provided top-notch customer service. Let us do the same for your property—call us today at (515) 664-6205 to schedule any of our lawn care and landscaping services.