Commercial Grounds Maintenance Services in Waukee, West Des Moines, Urbandale & Surrounding Areas in Iowa
Our services include lawn mowing, spring and fall cleanups, and leaf removal.
While keeping your commercial property well-maintained will help it make a positive impression on customers and employees, finding the time to do it yourself can prove challenging. Fortunately, that's where our crew comes in! At Brilliant Borders Landscaping, we offer expert commercial grounds maintenance services to keep your property in top condition throughout the year, including lawn mowing, spring and fall cleanups, and leaf removal. These services are available to businesses in Waukee, IA, and other nearby areas, such as West Des Moines and Urbandale. Call us today at (515) 664-6205 to get started!
---
Lawn Mowing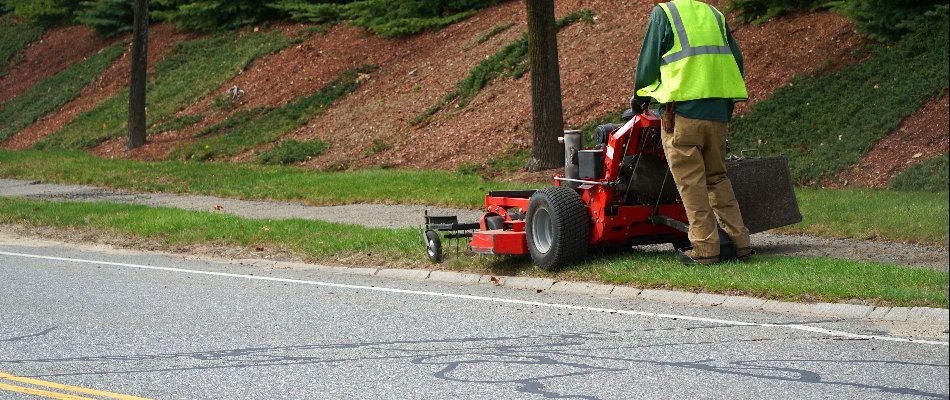 We offer a lawn mowing service that includes weekly visits starting April 1st and running until mid-November to ensure the grass on your commercial property stays neat and manicured throughout the growing season. During each visit, we'll mow your lawn, string-trim hard-to-reach areas so everything is the same height, edge along where it meets hard surfaces for a crisp look, and blow debris off your hardscapes for a clean finish.
We implement ideal mowing practices when servicing your commercial property's lawn, such as rotating mowing patterns and adjusting the deck height to your grass type.
---
Spring Cleanups
Our spring cleanup service is just what you need to spruce up the grounds on your commercial property so that it's in tip-top shape for the new growing season. When you sign up, our team will reshape the landscape beds to give them a fresh appearance so they look their best to clients and employees alike. We will also remove sticks, twigs, leaves, and any other debris build-up to keep it from making your grounds look messy and ensure your vegetation can access the resources it needs to flourish.
---
Fall Cleanups
We offer a fall cleanup service to prepare your grounds for the impending winter season. This service includes revitalizing the landscape beds on your commercial property by redefining their shape and removing debris that hinders its curb appeal and smothers your vegetation. That way, everything looks neat and purposeful for employees and customers, which speaks to the impression your business makes. Not only that, but it also gives your vegetation the best chance of surviving the freezing winter temperatures.
---
Leaf Removal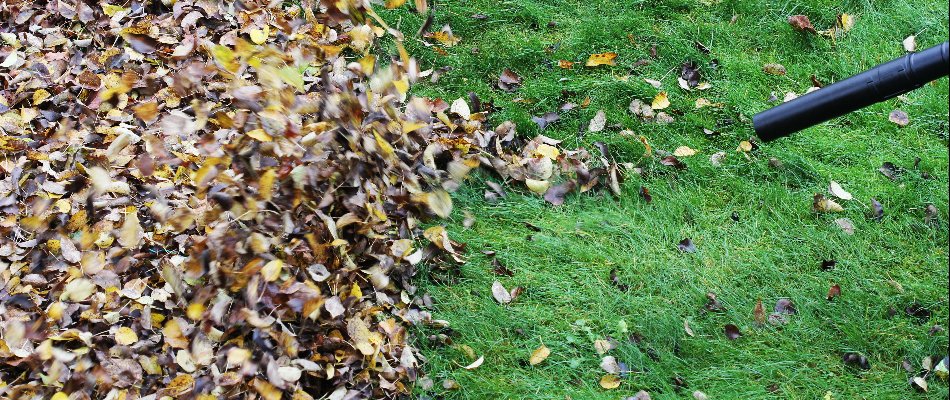 Leaves can smother your grass and plants by blocking essential resources, plus make your commercial property appear messy and unkempt. Fortunately, we offer a leaf removal service from mid-November until mid-January to ensure that doesn't happen! Our crew will blow all the leaves from your grounds to the curb, then suck them up and into a trailer to haul them away. This service also includes gutter cleaning to keep them from becoming clogged and not working as they should.
---
Call us today to sign up for our commercial grounds maintenance services.
At Brilliant Borders Landscaping, we offer professional commercial grounds maintenance services to ensure your property looks its best. From mowing the grass and sprucing up the grounds in the spring and fall to removing leaves - we are your one-stop shop for all of it. We have been exceeding expectations with our services since 2004, so you can trust that you and your commercial property are in good hands with us.
We offer our commercial grounds maintenance services to business owners in Waukee, West Des Moines, Urbandale, IA, and throughout the surrounding areas. Call us today at (515) 664-6205 to sign up for any of our services!